services
Our Services
From Boots to Bowties, Code 3 Catering is dedicated to serving the Sacramento Region. We prepare all our food from scratch in our commercial kitchen and deliver to any venue from back yard at a private residence, wedding at a banquet venue or fundraiser at a local church. No location is out reach.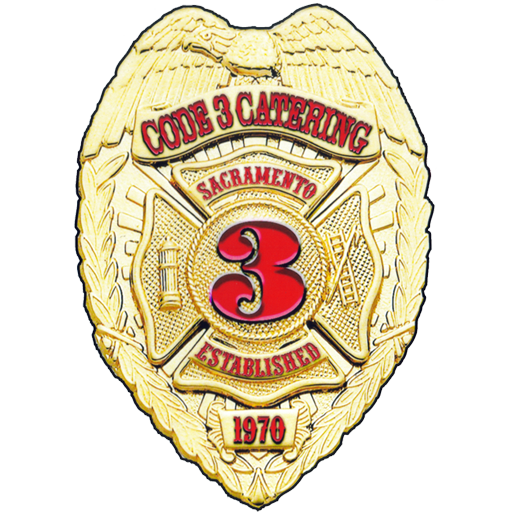 testimonials
Clients About Us
My husband and I were married June, 2015 and had our dream wedding in an elegant but simple garden setting! We wanted everything to feel peaceful, stunning and relaxed! Code 3 Catering made that happen with their excellent service! The efficiency and positive vibe from the crew plus OUTSTANDING food made our wedding even more amazing! They brought out our wishes with elegant and simple finger foods and salads of Mediterranean flavors that are talked about still to this day! We could not have been happier with the service and food they provided, Going above and beyond to accommodate us on our special day.  It was stress free for us!

I have been using Code 3 Catering for over 20 years to do many of the events that I am involved with, family gatherings, business meetings, Presentation Church Fundraiser (annually 10 years), Crime Alert Crab Feed (Annually 6 years). They have always proven to serve a great quality meal with steadfast professionalism, which always reflects on the organization they're working for. That is why they are always my first choice when I am responsible for the events that I put on, I can always trust that they will leave our guests was the impression have a great evening and a spectacular meal.

Code 3 Catering has catered the El Dorado Hills Search and Rescue Crab Feed for over 30 years, feeding over 600 people each year and helping us raise well needed funds to support our organization. They are professional as well as fun to work with, their home made Clam Chowder is one of the best in the business and keeps the people coming back year after year. We look for ward to more years to come using their service.

The State Building and Construction Trades Council of California is in your debt for the extraordinary job you did feeding 10,000 of our members and their families at the Valentine's Day Rally.